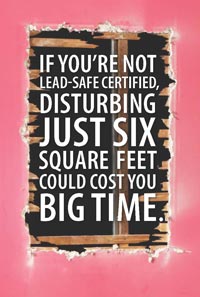 If you're working on homes, schools, or day care centers built pre-1978, you now must be EPA Lead-Safe Certified.
Baker Environmental Consulting is an EPA accredited trainer.
Scholarships offered by Kansas City Missouri Health Department
The Kansas City Missouri Health Department, Childhood Lead Poisoning Prevention/Healthy Homes Program will be offering a limited number of scholarships for free initial and refresher Renovation, Repair and Painting Rule (RRP) classes offered through BEC. If you are interested in free RRP training, please contact BEC for further information.
Remember, RRP training is required by the EPA. Protect your business, protect your workers and protect your clients. Sign up for free RRP training today!
If you live in Kansas Counties:
Leavenworth
Wyandotte
Johnson
If you live in Missouri Counties:
Jackson
Clay
Cass
Ray
Lafayette
Johnson
Check out the training schedule offered by Baker Environmental Consulting, Inc.